Mysterious address of Kyoto city!?
The Kyoto city address has unusual features not found in other areas of Japan.
For example, the address of The Kyoto Shimbun Co., Ltd headquarters in Kyoto-city is
"239 Shoshoi-cho, Karasuma-dori Ebisugawa-agaru, Nakagyo Ward, Kyoto City"
It is written that.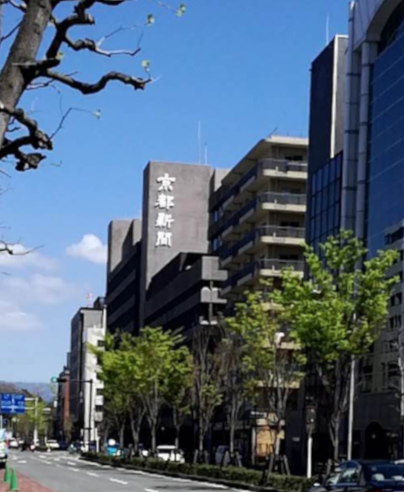 The address is a little longer than in other cities.
You know that the town name is "Shoshoi-cho", but why is the name of the street before that? And what is "agaru"?
There is a special address situation unique to Kyoto City.
Actually, Kyoto city has a very large number of towns.
There are 499 towns in Nakagyo Ward alone.

If there are so many towns, you can not remember the town name very much, and even if you say the town name, there is no one who can say the place correctly even the local Kyoto people.
In addition, there is also a town with the same name in the same ward.
For example, there are five towns named "Kameya-cho" in Nakagyo-ku.
Even if it is simply referred to as Kameya-cho, Nakagyo Ward, it can not be distinguished which Kameya-cho.
How do you distinguish town names?
There are so many town names, and even duplicate town names. The town name no longer serves as an address.
Therefore, by adding the street names running in the north, south, east and west to the address in Kyoto City, we decided to make it a unique address that does not overlap with other town names.
For example, the previous example "Karasuma-dori Ebisugawa-agaru" means that it faces "Karasuma Dori" and is located in the place where it goes to "Ebisugawa Dori" north."Dori" means "street".
"agaru" is upper in English. It means north on the map.Here, Karasuma-dori is a street that runs north-south in Kyoto city, and Ebisugawa Dori is a street that runs Kyoto city east-west.
There are the following four patterns to go in which direction.
When going north, "agaru(up)"
When going south, "sagaru(down)"
When going to the east, "higashi-iru (east in)"
When going to the west, "Nishi-iru(west in)"
If you know the street name and location of Kyoto City, you can find the destination even if you do not know the town name if you follow the pattern above.
Because "Takeya-machi Dori" runs north of "Ebisugawa Dori", it is not wrong with "Takeya-machi sagaru" instead of "Ebisugawa agaru". As a rule, it seems to often use the closest street.
If you want to know the exact address, you can contact the government office to tell you.
In this way, it is a very rational expression of the address that indicates where to move from the intersection of the vertical and horizontal streets.
All you need to know is the location of the east, west, north, south streets of Kyoto city.
The song of Kyoto street name
The name of the street in Kyoto that runs in the east and west is the name of that famous song, "Marutake Ebisu".
Most elementary school students in Kyoto know.
---
-Song "Marutake Ebisu" –
-Maru Take Ebisu Ni Oshi Oike
Ane San Rokkaku Tako Nishiki
Shi Aya Bu Taka Matsu Man Gojyo
Setta Chara Chara Uonotana
Rokujyo Shichijyo Torisugi
Hachijyo Koereba Tojimichi
Kujyo oji de todomesasu-
---
Go south from the north in order from Marutamachi Dori, and it will be a row lined up to Kujyo Dori.
The same is true for Gojyo, but there are also different patterns of flooding in the south.
"Ni-jyo" means the second largest street from the north. Similarly "Shi-jyo" is the 4th."Go-jyo" is the 5th."Ku-jyo" is the 9th.
The streets that appear in the fort are as follows:
| | | | |
| --- | --- | --- | --- |
| まる | maru | 丸太町通 | Marutamachi |
| たけ | take | 竹屋町通 | Takeyamachi |
| えびす | ebisu | 夷川通 | Ebisugawa |
| に | ni | 二条通 | Nijyo |
| おし | oshi | 押小路通 | Oshikouji |
| おいけ | oike | 御池通 | Oike |
| あね | ane | 姉小路通 | Aneyakouji |
| さん | san | 三条通 | Sanjyo |
| ろっかく | rokkaku | 六角通 | Rokkaku |
| たこ | tako | 蛸薬師通 | Takoyakushi |
| にしき | nishiki | 錦小路通 | Nishikikoji |
| し | shi | 四条通 | Shijyo |
| あや | aya | 綾小路通 | Ayanokoji |
| ぶっ | Bu | 仏光寺通 | Bukkoji |
| たか | taka | 高辻通 | Takatsuji |
| まつ | matsu | 松原通 | Matsubara |
| まん | man | 万寿寺通 | Manjyuji |
| ごじょう | gojyo | 五条通 | Gojyo |
| せった | setta | 雪駄屋町通(楊梅通) | Settayacho |
| ちゃら | chara | 鍵屋町通 | Kagiyamachi |
| ちゃら | chara | 銭屋町通(的場通) | Zeniyamachi |
| うおのたな | uonotana | 魚の棚通(六条通) | Uonotana (Rokujyo) |
| ろくじょう | rokujyo | 六条通 | Rokujyo |
| さんてつ | santetsu | 三哲通(塩小路通) | Santetsu (Shiokoji) |
| しちじょう | shichijyo | 七条通 | Shichijyo |
| はち | hachi | 八条通 | Hachijyo |
| とうじ | toji | 東寺通 | Tojimichi |
| くじょう | kujyo | 九条通 | Kujyo |
The east-west street and the north-south street are as shown below.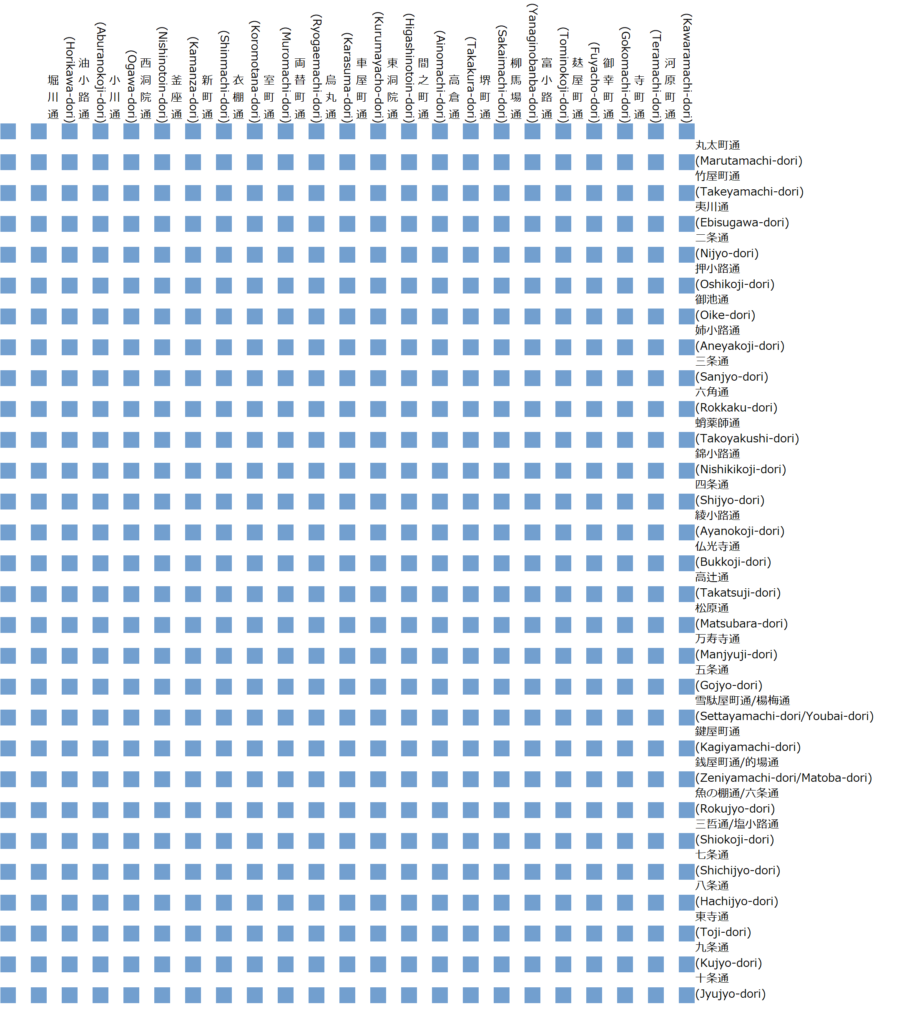 There is also a song that remembers the north-south street, and this is called "Tera Goko".
---
-Song "Tera Goko" –
-Tera Goko Fuya Tomi Yanagi Sakai
Takka Ai Higashi Kurumaya-cho
Karasu Ryogae Muro Koromo
Shinmachi Kamanza Nishi Ogawa
Abura Samenaide Horikawa-no-mizu
Yoshiya Ino Kuro Omiya-e
Matsu Higurashini Chiekoin
Jyofuku Senbon Hate-ha-Nishijin-
---
If you learn these songs, you will not get lost in Kyoto.