There are twice a year in Kyoto where the number of tourists peaks. It is the time of cherry blossoms and autumn leaves. At the Kyoto Municipal Subway, They are preparing an additional trains that is more regular than usual to match this period, and will help tourists moving.
This time we will introduce the autumn of Kyoto Imperial Palace which we can walk on foot from Marutamachi subway station.
After walking along the log town a bit, I get to the entrance of Kyoto Gyoen called Ainomachi-guchi.
I will go into the east a little without entering from here and enter from Sakai- machi gate. The Sakai-machi gates are the main entrance of the Kyoto gyoen, the front entrance, passing through when the departure of the 'jidai festival' and the 'Aoi festival' departs.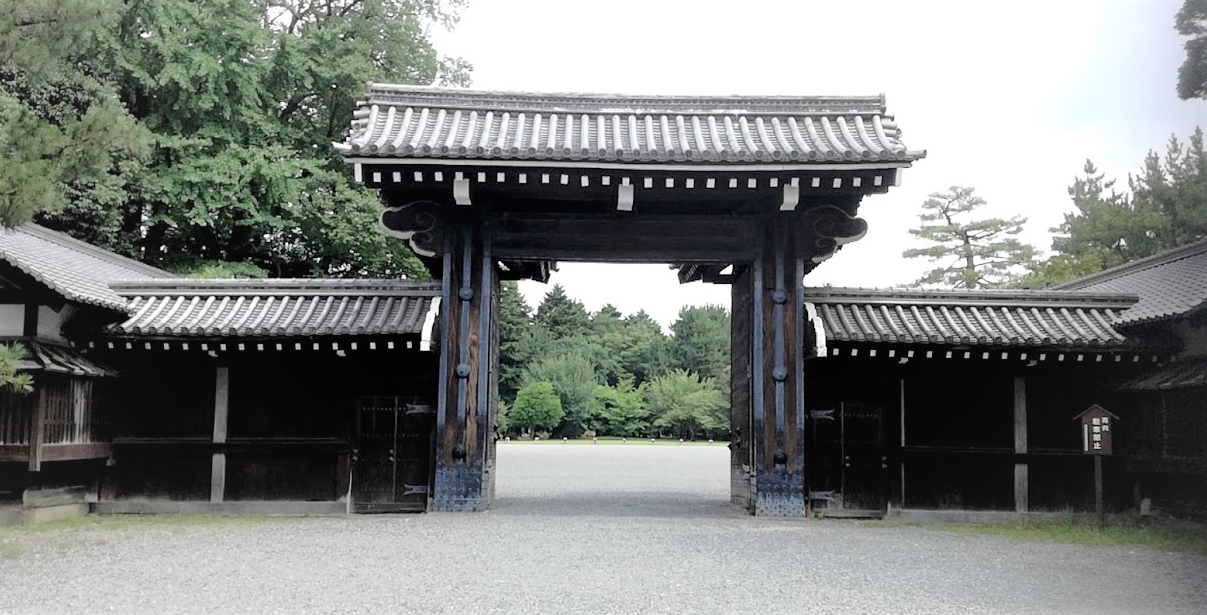 Go straight ahead from here to see the orange tree.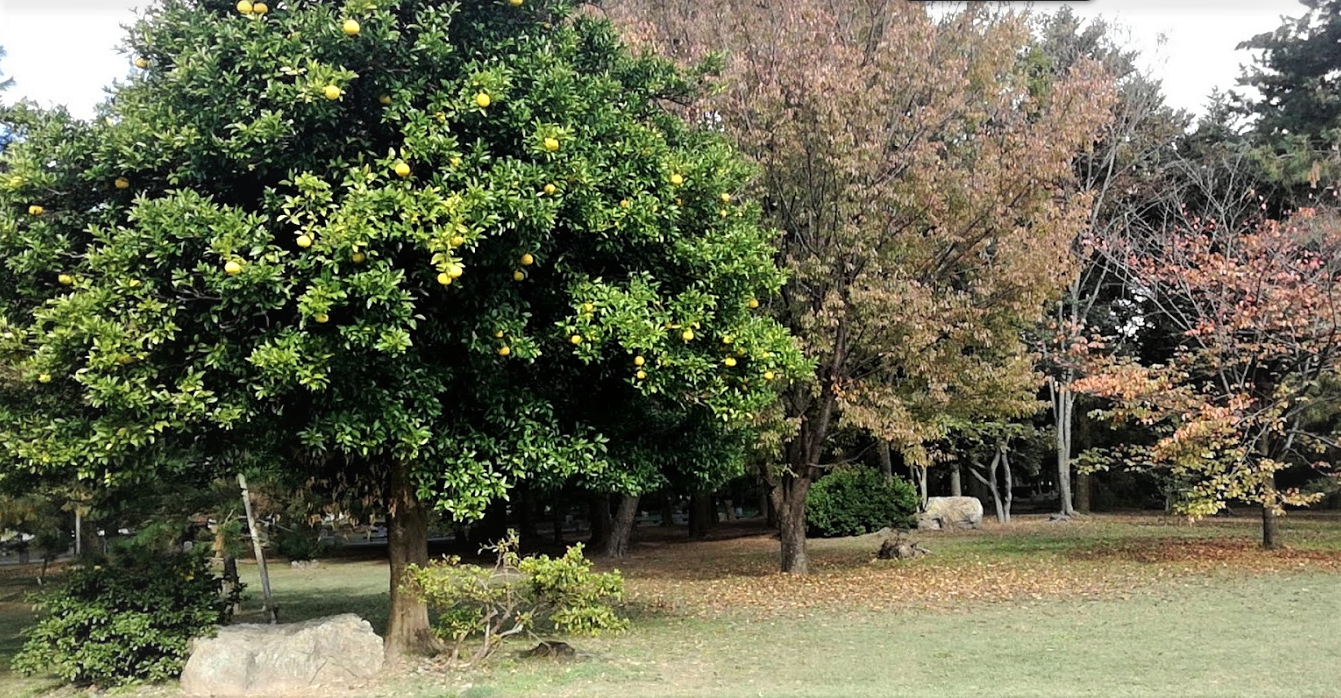 It is a tree of natural oranges and it grows on its way.
On the north side of the orange tree there was a red maple tree. It seems that it will take some more time for the whole color to be colored.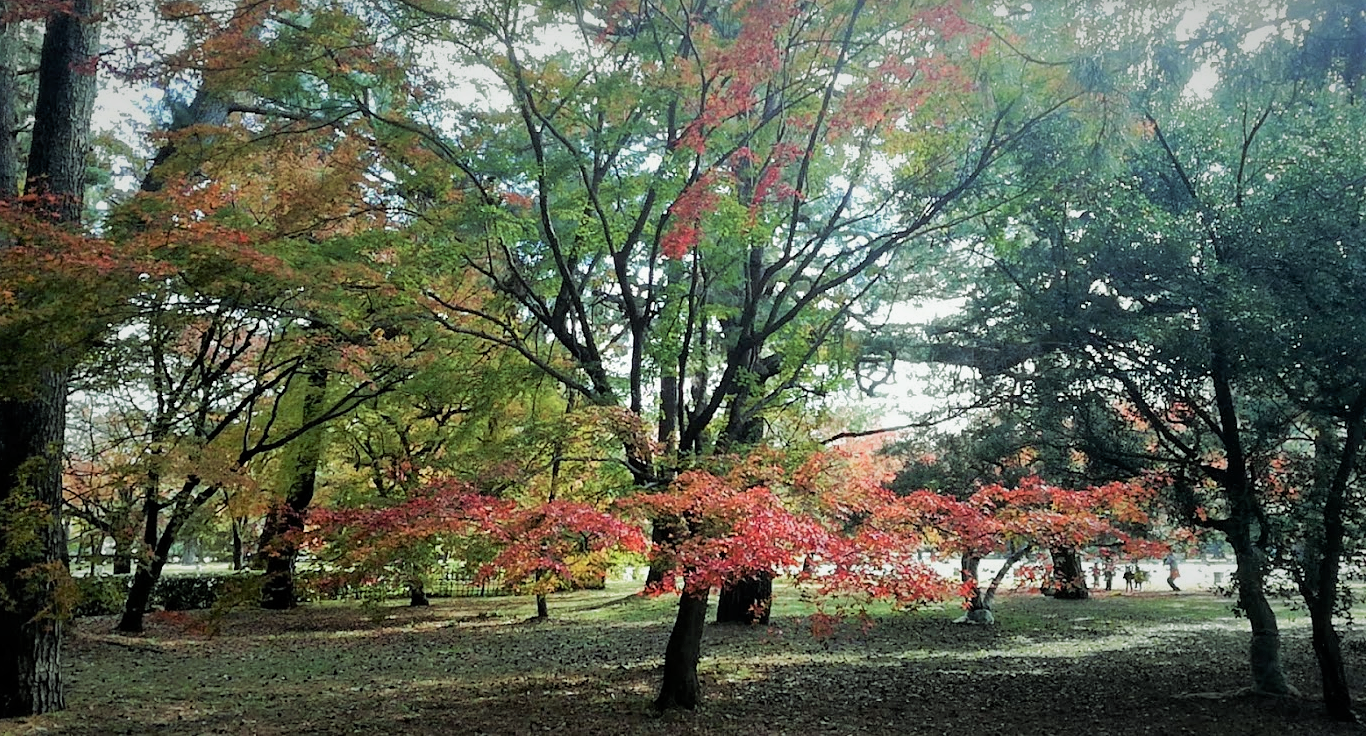 After going further north from there, you can see the big ginkgo named "Ginkgo of Gyokado" in the south of the Kyoto imperial gate. People who know it are heavenly ginkgo blooming in the garden.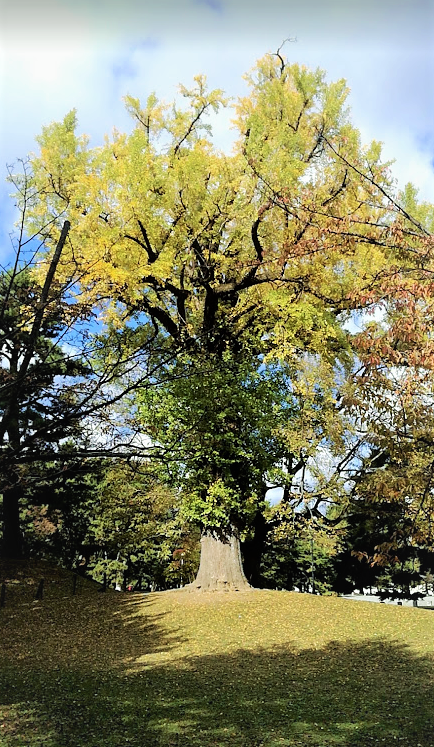 The height of ginkyo is 23 m, the trunk circumference is 528 cm. The garden is the fourth largest tree around the trunk. By the way, the tallest tree in the garden is 30 m in Zelkova near Tera-machi street. The biggest stem around is the ginkgo near the Sakai-machi gates, which is 553 cm. However, this "Ginkgo of Gyokado" rising in this small hill is the most beautiful and stately ginkgo in the garden. I do not believe that such a tree stands in the center of urban Kyoto city. It is also a point to hide in the forest.
Incidentally, after a week, leaves of ginkgo fall, turning into a yellow carpet and becoming a place for citizens to gather.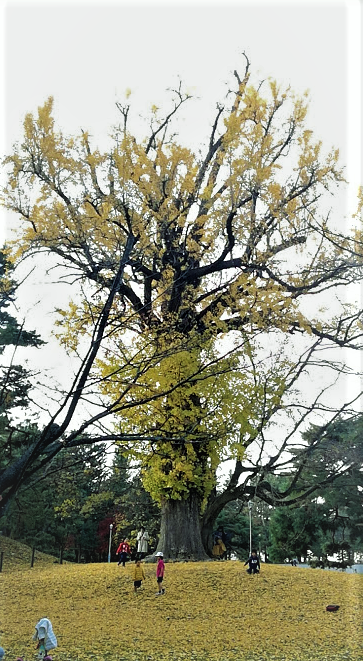 It is a maple growing to the east of "Ginkgo of Gyokado".
Spring praised lush fresh green leaves, but in autumn it will become burning red.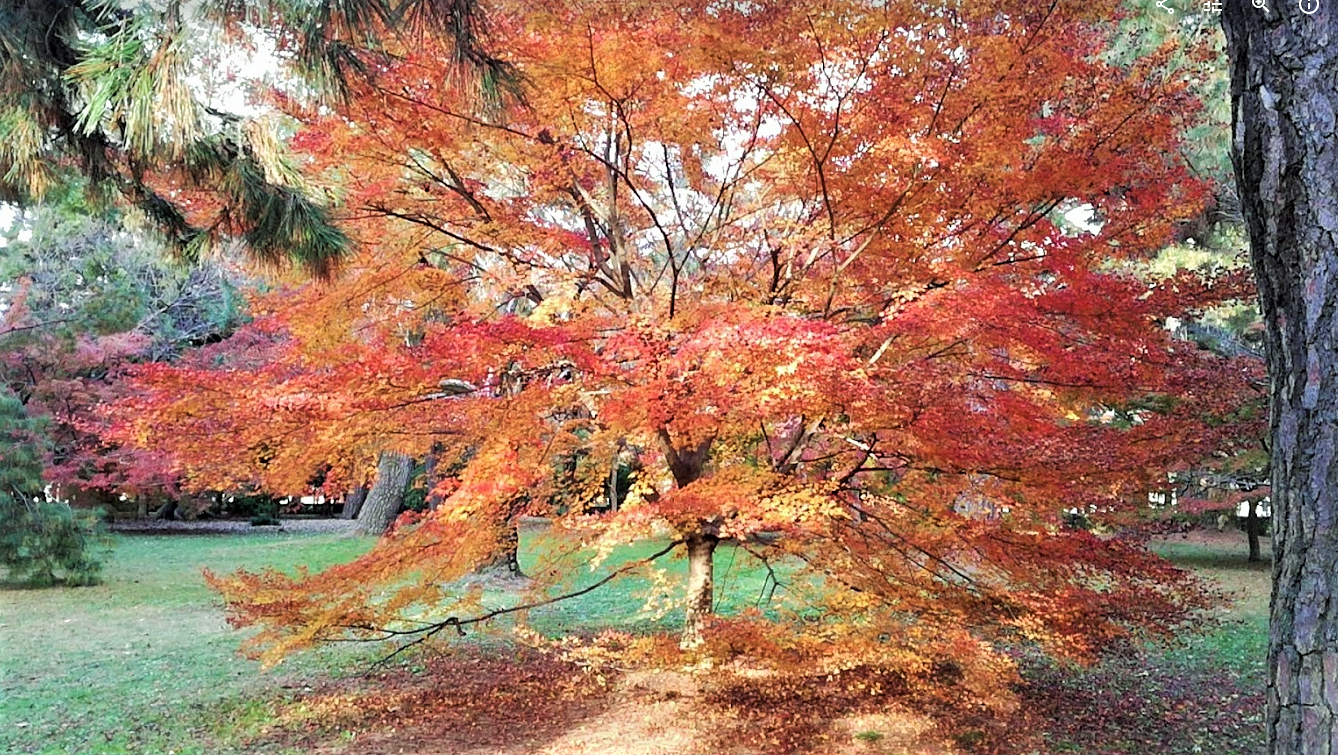 It is spring maple. Green was shining brightly.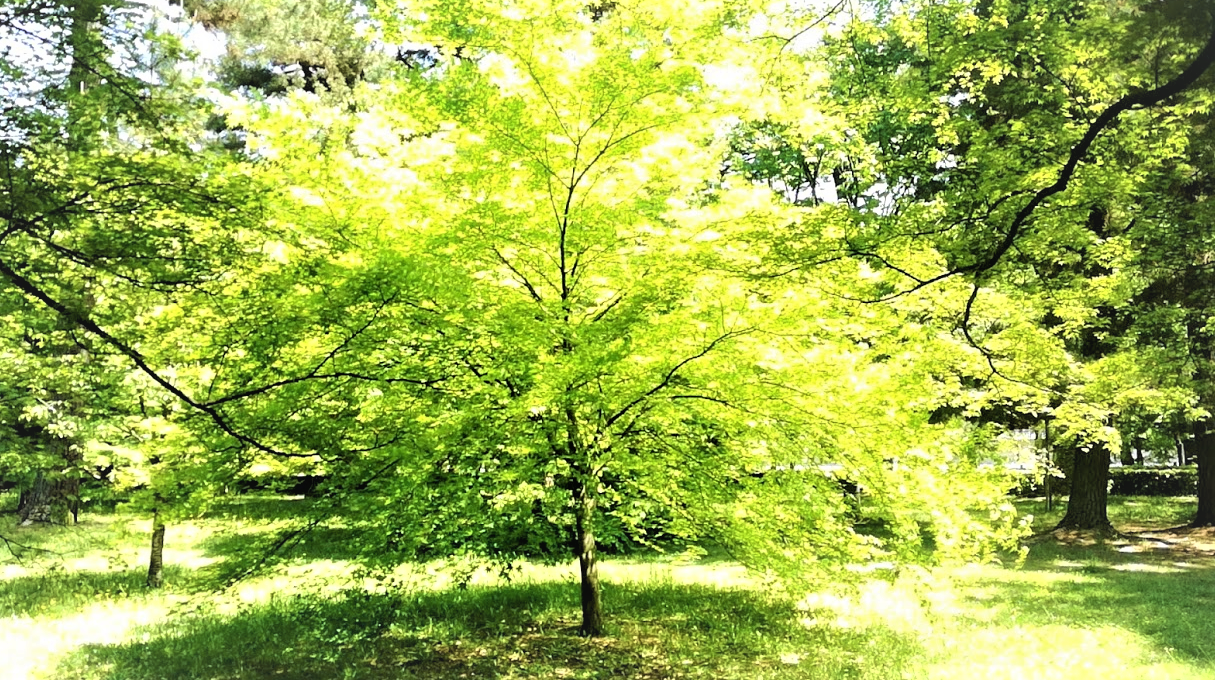 It is a view of the "Omiya Imperial Palace" from the west. There is a spot of Maple.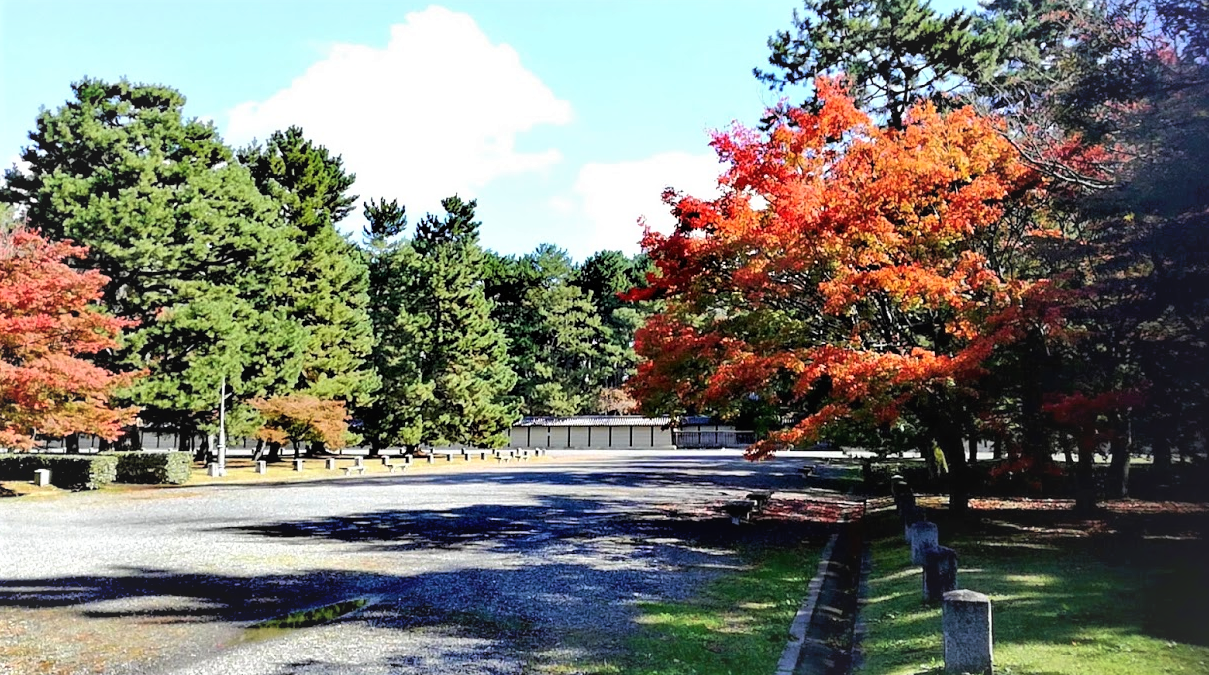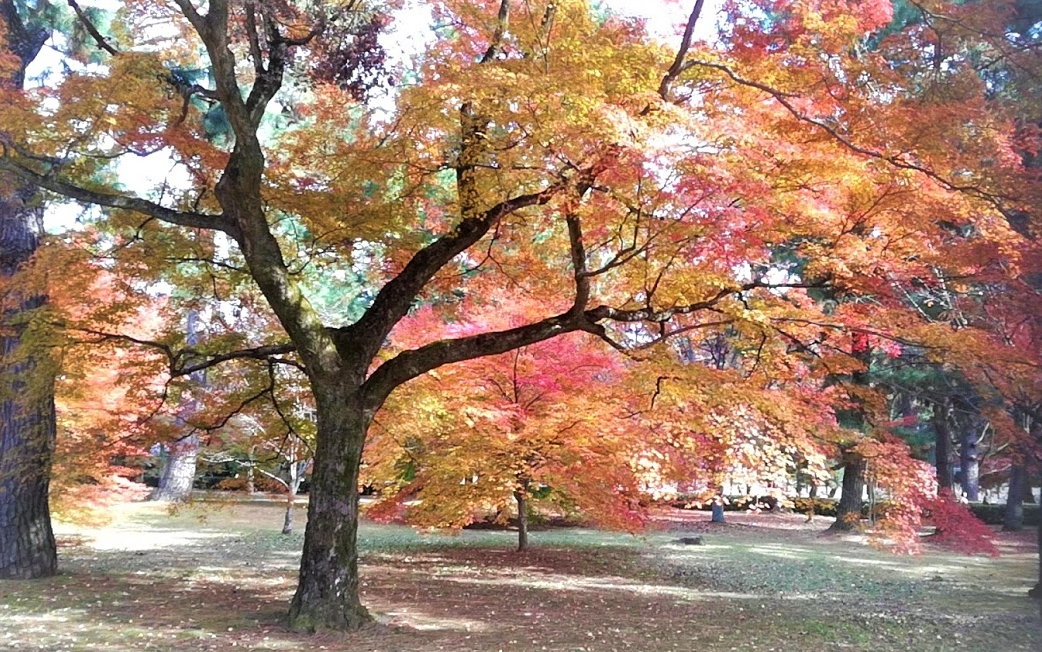 Finally it is a ginkgo native to the west of shirakumo Shrine. It is also big, but the trunk circumference is the 10th in the garden.